Project
P.S. You Sound Like Someone I Can Trust
Students will exchange letters with students from different classes or schools. By listening to others' stories and sharing stories of their own, students will practice to read and write with empathy.
Begin Here
Level
Grades 8–12
Type
Narrative, Social-Emotional Learning
Commitment
7 Sessions: 1 Hour Each
Download Includes
Project Instructions
Match-Up Survey – Handout
2 Student Writing Samples
What Your Students Will Learn
Some say that letter writing—and developing a deep sense of care towards the person on the other end—is a lost art. But we know it's not; it's just buried a little bit deeper than before. This project will launch your students headfirst into a letter-writing campaign with a partner classroom, allowing them to explore the importance behind written correspondence, communicating details and emotions to their reader, and building a relationship with someone who was once a stranger. Each session starts by grounding your students in their own creativity and experience and ends by celebrating their newfound friendships.
What Your Students Will Produce
Your students will produce a series of correspondence to their partner students, as well as various written reflections and creative exercises.
Writing Samples from This Project
Shared from This 826 Book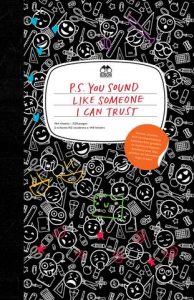 P.S. You Sound Like Someone I Can Trust
826CHI and the students of the 2017 Young Authors Book Project present their new book, P.S. You Sound Like Someone I Can Trust.
Within this compilation of letters between 8th graders at Emiliano Zapata Academy and 10th graders at Amundsen high school, 62 teens reflect on their identities, share their hopes and anxieties about the future, open up about loved ones' deaths, and swap K-Pop and Netflix recommendations.
View full collection in the bookstore