Close
Download this resource
Save PDFs to your computer or to Google Drive.
All I Want
1 Student Writing Sample
Session 1: Write Your Way Curriculum (6-8)
Full Session 1 text and accompanying resources
Project: Write Your Way Curriculum: Grades 6-8
All project sessions 1–1 and accompanying resources
Writing
All I Want
By Jabari, 826 Valencia
A poem about wanting more from life.
Level
Grade 8
Type
Poetry
I want what I cannot get.
I want more than just to be able to live.
I want to become what I am not.
I want to have a purpose in life.
It's like a thirst that can't be quenched.
But then I remember.
Like water was splashed in my face.
I remember that I do have a purpose.
Remember that I have gifts that are beyond measure,
gifts that sing songs of happiness in my ear.
The type of happiness you get from unwrapping a present. 
Remember that I am who I am.
A boy who dreams of a better world.
A boy who needs to find some more jokes to tell.
I remember that I have all of these things and more.
About the Author
Jabari is that one guy you know, but don't know. The mysterious guy who likes books and sports. He dreams to leave a positive impact on the world.
Shared from This 826 Book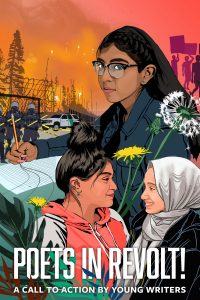 Poets in Revolt! A Call to Action by Young Writers
Whether it's the March For Our Lives, the Youth Climate Strike, or Black Lives Matter, young people are at the frontlines of combating injustice and changing the world. Poets in Revolt! brings together a diversity of student voices from communities across the country as they write to claim a brighter future.
View full collection in the bookstore
From this project
Grades 6–8
Informational, Narrative, Persuasive, Poetry, Social-Emotional Learning
Write Your Way Curriculum: Grades 6-8
by 826 National
See more Student Writing at this level