Writing
De Werito A Prieto
By Katya Torres
This bilingual poem explores the harrowing story of a boy working while in school to save his mother.
Level
Grades 11–12
Type
Poetry
El era un werito, bien clarito
He was.
He was so light skinned
They called him Blanca Nieves
Pero his eyes were dark, and his hair was darker
He was smart and hard-working
He went as far as he could get educated
For him, that was half way through tenth grade
Su mamá got sick
So he had to work
She always cried cause of the pain
More when she hurt for her brilliant mijo to have dropped out
She begged him to go back to school
Pero él no pudo
They could barely afford her treatments with him working
Imagine if he hadn't?
Everyday he'd come back with dirt-covered skin
Over time he ended up with dirt-coloured skin
Y luego un día, ya no era el Werito
Luego un día, lo llamaron el Prieto
And that's how it was
And that's who he was
And that's who he became
And that's not what he truly was
His mamá got sicker
She got thinner
She begged God to take the pain away
And then one day, she must have begged hard enough because the pain went away
El Prieto cursed God
He screamed at the sky until his lungs couldn't scream anymore
He hated the world
For not being able to help her
She didn't even get to say goodbye
He didn't even get to say goodbye
She didn't get to tell him how she wished he'd be the first to finish school
And he didn't get to make her proud, not even for a second
Because he took late, late classes
And studied during all his lunch breaks out in the fields
He did it for his mamá
He finally did it, he finished school.
With no help from anybody
While he was stealing the job of a Gringo because they want to work in fields,
right?
He did it with no money
He did it without cheating
He did it because he was smart
He was hard-working
He did it for his ma
Because she was smart, and brilliant, and hard-working, and a great mother
She just didn't get to make it
So he did
And he hated the world, for not making her proud
Pero she was
Because when she prayed for God to take away the pain
She prayed extra hard for her son to receive the good news
Because she knew
She always knew, she always knew he would make it.
About the Author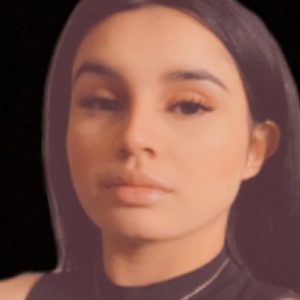 She's interested in writing, psychology, and Brazilian Jiu Jitsu. She's written poems ever since she was four years old, when she would sit in the kitchen while her grandmother cooked, and will probably write for the rest of her life. 
Shared from This 826 Book
Faceless: Untold Side Effects of Culture, Race, & COVID-19
Faceless: Untold Side Effects of Culture, Race, & COVID-19 is a collection of student writing that spans genre, space and time before, during and after the coronavirus pandemic. Supported by The 826 Dallas Project as part of their first-ever Young Authors Book Project, students from two Ethnic Studies courses at Trinidad Garza Early College High School in Dallas, Texas wrote honest and searing works that weigh the longstanding sins of American racism with the new realities of virtual learning and social distancing.
View full collection in the bookstore
From this spark
See more Student Writing at this level