Writing
Delicious Pepperoni Pizza / Pizza de Pepperoni Deliciosa
By Alexa, 826michigan
A poem that tastes like pepperoni pizza.
Level
Grades 3–4
Type
Poetry
Smells like melted mozzarella cheese.
dripping on the side of the plate.
The pepperoni smells like spicy wasabi.
I can see pepperoni faces that are happy,
and the cheese looks shiny,
the dough peeking out the side.
The crust looks like crazy bread, and it
looks like a long snake.
On my tongue, it feels hot like chips form
the fryer.
When I chew, it sounds like mushy
Tomatoes, squish, squish.
When I eat five pieces, I feel as happy as
when I get presents from Santa.
The pizza feels heavy from the toppings,
and the cheese is like a gray tiny rock.
Pizza de Pepperoni Deliciosa
Huele como queso derretido de mozzarella
goteando de un lado del plato.
El pepperoni huele como wasabi picoso.
Yo puedo ver caras de pepperoni que están
Felices y el queso se ve brilloso,
la masa asomándose del lado.
El borde parece pan loco y como una serpiente
larga.
En mi lengua se siente caliente como papas
recién sacadas del sartén.
Cuando lo mastico sueno como tomates
pulposos, squish, squish.
Cuando me como cinco pedazos, me siento tan
feliz como cuando recibo regalos de santa.
La pizza me cae pesada de todos los toppings, y
el queso coma una roca pequeña color gris.
About the Author
Alexa, age nine, lives in a green house in Detroit. Her talent is that she can dribble the ball and make a goal. She lives with one sister, one brother, and three dogs. Their names are Lucy, Princess, and Jager. Her writing process is: she first writes her ideas, then she just writes them in a story.
Alexa, de nueve años, vive en una casa verde en detroit. Su talento es poder botar el balón y anotar un gol. Ella vive con una hermana, un hermano y tres perros. Sus nombres son Lucy, Princess, y Jager. Su proceso de escritura es: primero escribe sus ideas, después las escribe en forma de historia.
Shared from This 826 Book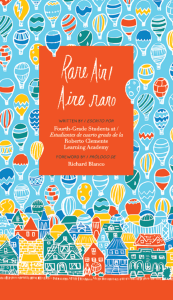 Rare Air / Aire raro
Rare Air / Aire raro is 826michigan's Young Author's Book Project for the 2015–2016 school year written by the fourth-grade students of Ms. Lowe's class at Roberto Clemente Learning Academy in Detroit and it is FULL of firsts for us. It is the first YABP written in Detroit. The first YABP of poetry. And the first that is completely bilingual (English and Spanish).
With a foreword by inaugural poet Richard Blanco, and introduction by volunteer and retired teacher Sandy Karolak, Rare Air / Aire raro is full of exceptional and charming poems on family, neighborhood, and memories. Poems were translated into Spanish by students, family members, and volunteers to allow for students to share their voices with their community. So join fourth-grade writers of Roberto Clemente Learning Academy in feeling the rare air in this beautiful book of bilingual poetry.
A bilingual collection of poetry written by fourth graders at Roberto Clemente Learning Academy in Detroit.
View full collection in the bookstore
From this project
See more Student Writing at this level