Writing
Home Away From Home
By Jennifer Alcocer
This personal narrative addresses the struggles of students graduating high school during the pandemic.
Level
Grades 11–12
Type
Narrative
It's been difficult. This is my senior year and I won't be able to have the "senior experience." I won't be able to take graduation photos with my friends, go to prom with them, or even cheer them on when their names are called to receive their diploma. The worst part is, I won't be able to say goodbye to them. I honestly feel alone, like sure I can text or call them every now and then, but it's different. I have never really been good at texting, so during this whole quarantine I haven't really spoken to many of my friends. My friendships are strong and they thrive in person, just like any other relationship. They were there for me when I needed an escape from reality, taking me on little adventures. I just want to see my friends at least one more time because they're like my family— they're my home away from home. 
About the Author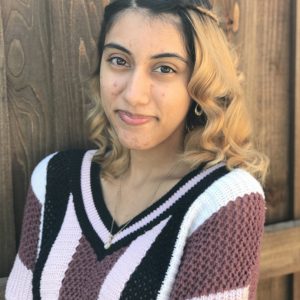 Jennifer Alcocer is currently a senior at Trinidad Garza ECHS, she is 18 years old and was born and raised in Dallas, TX. She has played an active role in her community since the age of 12— from volunteering at churches, a retirement home, and even becoming politically involved through organizations such as LULAC and Jolt. As a proud Mexican-American woman, she aims to share her story and prove that although we may look different, we are all people— therefore, we should be united, not divided. 
Shared from This 826 Book
Faceless: Untold Side Effects of Culture, Race, & COVID-19
Faceless: Untold Side Effects of Culture, Race, & COVID-19 is a collection of student writing that spans genre, space and time before, during and after the coronavirus pandemic. Supported by The 826 Dallas Project as part of their first-ever Young Authors Book Project, students from two Ethnic Studies courses at Trinidad Garza Early College High School in Dallas, Texas wrote honest and searing works that weigh the longstanding sins of American racism with the new realities of virtual learning and social distancing.
View full collection in the bookstore
From this spark
See more Student Writing at this level