Writing
Nothing New to Us
By Julianna Cruz, 826 Dallas Project
This narrative piece contemplates the struggle of immigrants during the pandemic.
Level
Grades 11–12
Type
Narrative
I am in a trance—sort of like a period of denial, where time is frozen and I can't necessarily process what is going on in my surroundings. I see my teachers from a screen, spend a lot of my time staring into empty space, and I feel chained to my bed. I love being alone by choice, but I do not love being isolated by force. The Coronavirus has been impacting our lives in unimaginable ways. The physical norms that we were used to have now become the unthinkable. It's only a matter of time until we all lose our sanity and drown in sorrow. Frankly, I try to keep busy—steer away from the loneliness that has been devouring my existence—but in the process, I've learned that some people—my people—are being forced into risking their lives. What society doesn't want to know is that most of it has to do with the racial marginalization that this country has navigated through for centuries.
Yesterday, a news channel flashed onto my TV screen illustrating rows
of colorless cages where detained immigrants were being kept. I don't get
surprised by it anymore just because it's nothing new to us. For decades, this country has tried to pull us out like weeds in a dying garden, but in the middle of a pandemic? It's an outrage to realize that while people are the most vulnerable, ICE officials feel the need to take advantage of that opportunity and essentially trick people into being detained and deported. Maybe with a door shielding you from their presence, ICE officials can't get to you. I mean it's the law, but it's not necessarily our reality. With a knock on your door, disguised as health care workers, human morals disappear into thin air. "We are here to test you for COVID per government request to enact further safety precautions." And with that, your shield becomes as thin as paper, handcuffs become your new designer brand jewelry, and cages? Your new home. The resources to keep the detained in healthy conditions during this pandemic are not pretty. So many people are panicked simply because they want to survive this time coma that only seems to steal innocent lives from us. Dehumanizing people who simply want to be with their families in a time of crisis has realized the true values that lie in a racially constructed country like America. It's a death sentence—almost serving as a strategy to rid the population of minorities—and, of course, it makes my blood boil.
It's no secret that most minorities who work "essential jobs" are being exposed to the virus and risking their health. Still, many have lost their jobs without being able to afford simple necessities. But it's nothing new to us. Seemingly, we've adapted to these circumstances after learning how to dodge every piercing bullet of hatred and oppression as soon as we were birthed into this uninviting world. But it should have never reached that extent. It is only now at the expense of a life-stripping outbreak that privileged, ignorant Americans are having a taste of what it's like to be the underdog.
It's unfortunate that a lethal virus, naked to the human eye, has had to become the game maker of this inescapable maze. A virus doesn't discriminate. It doesn't have feelings and it doesn't care. It will rip you apart from everybody you love and leave you with nothing— not even life itself. Has it become a personality trait to be a virus? Maybe. It appears to me that minorities are the host and America the devious parasite that wants to take us out one by one on sight. During a pandemic, stepping out of your house is suicide, but like I said, that's nothing new to us.
About the Author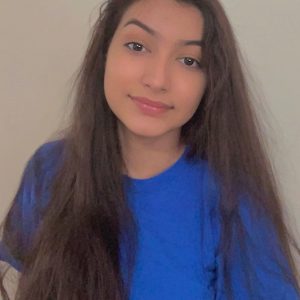 My name is Julianna Cruz & I am 16 years old. I was born to immigrant parents along with four siblings that inspire me to be my best self. In the future, I hope to pursue a career in the medical field to teach others who look like me that hard work really does make the dream work. Whether you cried, went back down memory lane or just kept a straight face, I hope my pieces sparked some kind of emotion in you & reminded you that we're walking out of time, so make the best of life & stay humble.
Shared from This 826 Book
Faceless: Untold Side Effects of Culture, Race, & COVID-19
Faceless: Untold Side Effects of Culture, Race, & COVID-19 is a collection of student writing that spans genre, space and time before, during and after the coronavirus pandemic. Supported by The 826 Dallas Project as part of their first-ever Young Authors Book Project, students from two Ethnic Studies courses at Trinidad Garza Early College High School in Dallas, Texas wrote honest and searing works that weigh the longstanding sins of American racism with the new realities of virtual learning and social distancing.
View full collection in the bookstore
From this project
Grades 9–12
Informational, Narrative, Persuasive, Poetry, Social-Emotional Learning
Write Your Way Curriculum: Grades 9-12
by 826 National
See more Student Writing at this level