Close
Download this resource
Save PDFs to your computer or to Google Drive.
Stupid Blue Screen
1 Student Writing Sample
Lesson: True Connections: Personal Experiences with Social Media
Full lesson text and accompanying resources
Writing
Stupid Blue Screen
By Vanessa Ramon-Ibarra
Living in the digital world can create unwanted attachments, as one student laments.
Level
Grades 9–12
Type
Poetry
I've become so attached to my phone
that the sun no longer provides light.
I've become so attached to my phone
that I don't know how to talk to my best friend
face to face.
It's hard to socialize in person
but behind a screen I am powerful.
I have a voice that is bright red
that can scream at these
stupid blue screens.
I've become so attached
that it is starting to feel like I've become addicted.
I'm always on social media.
Constantly texting, liking, commenting.
There are days I cry, stressing about
how many followers I have
and how many likes I receive.
It's like a job, keeping the data of
every single notification sent to me.
I'm lost behind this stupid blue screen.
I'm done with these stupid blue screens.
They don't let me think.
Shared from This 826 Book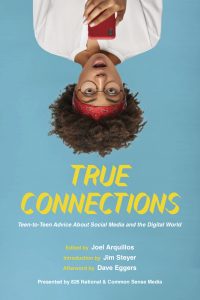 True Connections: Teen-to-Teen Advice About Social Media and the Digital World
PRESENTED BY 826 NATIONAL AND COMMON SENSE MEDIA
True Connections features young writers from around the country exploring their relationship with the internet, with social media, and with the digital world in general. From essays about internet addiction to explorations of digital disconnections, True Connections gives young writers the chance to ask big questions about what it means to strike a balance between real life and online life, and to remain true to oneself in both.
View full collection in the bookstore
From this lesson
Grades 6–9
Informational, Narrative, Poetry
True Connections: Personal Experiences with Social Media
by Rebecca Darugar, Liz Levine, and Brancey Mora, 826NYC and 826 National
See more Student Writing at this level