Writing
Three Poems Put Into One
By Yarely, 826michigan
A poem about grandma. English and Spanish versions included.
Level
Grades 3–5
Type
Poetry
Last winter my grandma came from Reno.
I was happy because I hadn't seen her
in a long time.
When she comes, my mom cooks.
I also bake chocolate chip cookies,
then we all gather around.
It tastes like hot cocoa or when two dogs
are happy and wag their tails.
She also brings me chocolate
that looks like little rocks.
It is crunchy and colorful like
a rainbow.
The chocolate smells sweet.
My grandma smells like
her house in Reno.
My grandma's laugh is like
my mom's, sounding delightful.
When I run with my grandma,
I feel the rare air.
*      * .    *
Tres Poemas juntos
El invierno pasado mi abuela vino de Reno.
Yo estaba feliz porque no la había visto
en mucho tiempo.
Cuando ella viene, mi mamá cocina.
Y yo también horneo galletas con trocitos de chocolate,
y luego todos nos reunimos.
Tiene el sabor de chocolate caliente o como cuando dos perros
están felices y mueven sus colas.
Ella también me trae chocolates
que se parecen a pequeñas rocas.
Son crujientes y de colores como
el arcoiris.
El chocolate huele a dulce.
Mi abuela huele a
su casa en Reno
La risa de mi abuela es igual
que la de mi mamá, agradable.
Cuando corro con mi abuela
siento el aire raro.
About the Author
Yarely lives in a brick house in Detroit. She lives with her mom, dad, brothers, and two dogs. She's grateful for her mom having a baby boy. Three words that describe her are smart, kind, and happy. Reading famous books inspires her to write.
Shared from This 826 Book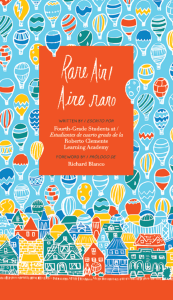 Rare Air / Aire raro
Rare Air / Aire raro is 826michigan's Young Author's Book Project for the 2015–2016 school year written by the fourth-grade students of Ms. Lowe's class at Roberto Clemente Learning Academy in Detroit and it is FULL of firsts for us. It is the first YABP written in Detroit. The first YABP of poetry. And the first that is completely bilingual (English and Spanish).
With a foreword by inaugural poet Richard Blanco, and introduction by volunteer and retired teacher Sandy Karolak, Rare Air / Aire raro is full of exceptional and charming poems on family, neighborhood, and memories. Poems were translated into Spanish by students, family members, and volunteers to allow for students to share their voices with their community. So join fourth-grade writers of Roberto Clemente Learning Academy in feeling the rare air in this beautiful book of bilingual poetry.
A bilingual collection of poetry written by fourth graders at Roberto Clemente Learning Academy in Detroit.
View full collection in the bookstore
From this project
See more Student Writing at this level