Close
Download this resource
Save PDFs to your computer or to Google Drive.
We are not alone
1 Student Writing Sample
Lesson: Poets in Revolt!
Full lesson text and accompanying resources
Writing
We are not alone
By Jeremy Hsiao
From the forthcoming anthology, Poets in Revolt!, this poem reminds activists that "to change everything, we need everyone."
Level
Grade 11
Type
Poetry
To change everything, we need everyone.
           chanted as crowds of people roll
           through the space between coasts
           an overpopulated marble race
           holding signs beaten blue and green 
           they share their confidence with the sun 
           as it shifts to the horizon
           shining through billowing white glass
           with an ominous glare like ink as it spirals
           into this turquoise gradient. 
           shout out the fanatics
           dilating satellites in their eyes, 
           something great lies hidden
           circling the fringes of dust balls
           the stars flash white, red, yellow
           in between black, the blue 
           searching for anomalies in confetti,
           only rocks to be left behind
           if nothing is done.
To change everything, we need everyone.
           whispered under the breath 
           of children in the dark
           red eyes in the flashes like Antares, 
           closing in, a gaping mouth, a gasping scream
           the lights flicker on, 
           the sun is up again
           change is needed.
           murmured in hearts of torn pillows 
           the words sit, shadowed 
           by the dark side of the Earth, 
           you see flares of electricity in capitals and cities, 
           the last flickers like crushed crickets
           that's all she has left.
From Poets in Revolt! A Call to Action by Young Writers
You can find a preview of the book here.
About the Author
Jeremy started writing poetry in the 5th grade. He hopes to bring new life through his poetry and provide new perspectives for how we look at our surroundings. He also enjoys basketball and playing guitar.
Shared from This 826 Book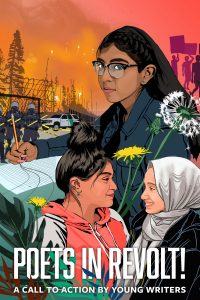 Poets in Revolt! A Call to Action by Young Writers
Whether it's the March For Our Lives, the Youth Climate Strike, or Black Lives Matter, young people are at the frontlines of combating injustice and changing the world. Poets in Revolt! brings together a diversity of student voices from communities across the country as they write to claim a brighter future.
View full collection in the bookstore
From this lesson
Grades 6–10
Poetry, Visual, Performing, and Media Arts
Poets in Revolt!
by Ola Faleti, 826CHI, with an introduction by Amanda Gorman, Inaugural Youth Poet Laureate of the U.S.
See more Student Writing at this level