Writing
Where I'm From
By Michaiah Anderson
In this personal narrative, a student describes their family origins with an intimate point of view
Level
Grades 11–12
Type
Narrative
I come from a nice suit and black "shining" shoes. Beating me at bowling, every time we play. And a mom says "Be thankful for what you got, because there is someone who wants to be in your shoes." 
I come from a weird dancing machine, "The Cosby Show", and "A Different World." Sunday dinners of meat loaf, cabbage, potatoes, rolls, and Peach Cobbler. And a mom who demands to be respectful to everyone you see no matter who they are. 
I come from a weekly trip to Rockwall in a silver Chrysler 200, named "Silver", and satellite radio. Playing Lalah Hathaway, Hip-Hop, R&B, and Gospel. A mom who says "Thank God I had you and your sister. And Thank God I'm married to a wonderful Husband." Meaning she thanks God for all he has blessed her with so far. 
I come from a momma who taught me how to pray for everyone and everything, not be too cocky but have pride in who I am, and how to love everyone no matter how much you dislike them. A momma who says "I love you so much, and I wouldn't want anyone else but you and your sister." Meaning she loves me a lot. 
I come from a caring mom. A sacrificing mom. A giving, laughing, playing-with-kids mom. A hard working mom. A loving mom. A wilding mom. A dancing mom. A woman who says "Michaiah get yo tail up, or imma get that belt!" 
I come from a praying mom. A "If you don't love yourself, no one else will," praising mom. 
An interesting mom. A teaching mom. A respecting mom. A fighting for what she wants mom, so that she can have everything she wants and needs. 
Thank you mom for raising me into who I am currently. I know you have many more things to teach me, but you've done an excellent job so far. I love you so much mom. You and dad are my inspiration and role models…. I think of you as purple because it's the highest Medal of Honor. Because of you deserve all the honor every second of your life. 
About the Author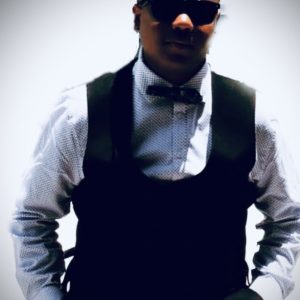 My name is Michaiah Anderson. I was born October 24,2002 in Dallas, Texas. I am the oldest child out of my sister and I. I love to play video games, and work on cars. In 2021, I plan on going to a 4-year university and getting my degree in Business/Accounting. 
Shared from This 826 Book
Faceless: Untold Side Effects of Culture, Race, & COVID-19
Faceless: Untold Side Effects of Culture, Race, & COVID-19 is a collection of student writing that spans genre, space and time before, during and after the coronavirus pandemic. Supported by The 826 Dallas Project as part of their first-ever Young Authors Book Project, students from two Ethnic Studies courses at Trinidad Garza Early College High School in Dallas, Texas wrote honest and searing works that weigh the longstanding sins of American racism with the new realities of virtual learning and social distancing.
View full collection in the bookstore
From this spark
See more Student Writing at this level