Writing
Daddy Longlegs
By Chelsea, 826NYC
A creative field guide to Daddy Longlegs.
Level
Grades 6–7
Type
Informational, Narrative, STEM
Lives with: Pin oak & Arthrobacter
Latin name: Phalangium opilio
Description
They are known to haverstmen and have one pair of eyes. The body is one part instead of two parts, like spiders.
Lifespan
Daddy Longlegs live between two and seven years.
Reproduction
Daddy Longlegs lay eggs in order to reproduce.
Predators
Birds, some mammals, and lizards eat Daddy Longlegs.
Interesting facts
They are often mistaken for spiders, but they are not! There may be as many as ten thousand different types of Daddy Longlegs.
Habitats
Daddy Longlegs live in urban, rural, and suburban areas.
Diet
They are omnivorous but mostly eat small bugs.
Personality traits
This Daddy Longlegs is very sneaky, never moves alone, and can't stay in one place.
Physical traits
He/she is skinny and tall, brown with a tan.
Life at home
He/she doesn't really talk to others. He/she is a lone wolf at home.
I woke up already feeling dead on the inside. It was my first day, and I knew everyone would think I'm a spider. But I'm a Daddy Longlegs. Wearing my usual outfit, I slipped on a black shirt with some holes in it and black jeans. I didn't even bother to touch my hair or eat breakfast. My parents didn't even see me leave. Seeing the bus, I didn't even catch it. Having eight legs can make a person pretty fast. As I walked to school, the teacher asked me to introduce myself. I said, "Nah." Detention was fun 'cause I didn't go. Like I said, six legs move quickly. If I get caught, I will go to the next place, find the others, and run. That was my first day.
Sadly, I got caught. My parents found me. The police got me, called me "Spidey." Are they dumb? Spiders have two parts to their bodies. I have one! I tried to slip away from my parents, but for creatures who are going to die in a day, they were very strong. Walking down the block, I saw some bugs and I got a little hungry. The birds flew over my house like a symbol of death. I feared my family ganging up on me, creating a force that I'm not in. But most of my family was dead. They only live to be seven. I was gonna go soon but not because of my age.
Shared from This 826 Book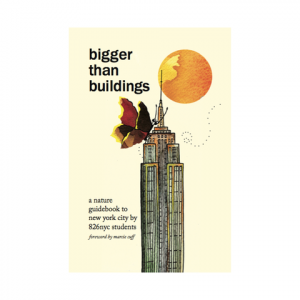 Bigger Than Buildings
Through the eyes of 826NYC's young scientists and writers, explore New York City's myriad habitats and inhabitants. From the tiniest microbes in the waters of Coney Island to the tallest trees in Central Park, every organism has its role.
Unlike those in other guidebooks, these species often take on lives of their own, writing about the torture of getting detention as a daddy longlegs to the excitement of trick-or-treating as a northern mockingbird. Life is vibrant within these pages.
View full collection in the bookstore
From this project
See more Student Writing at this level