Join Us! Sign Up for a Free 826 Digital Account
By signing up you will have access to...
Everything on 826 Digital! With a free account, you'll be able to browse, enjoy, and apply a wide variety of teaching tools and student writing examples. You can access these materials directly on the site, and to save it via Pinterest, Google Drive, and direct download.
Find Teaching Resources

Read Student Writing

Save Your Materials

Visit Our Bookstore
▼
Sparks
Sparks are innovative, adaptable mini-lessons and activities. They help hone a specific skill or inspire big ideas.
See a Spark
▼
Lessons
Lessons are highly engaging and ready to use. They're built around a topic and genre and focused on an educational outcome.
See a Lesson
▼
Projects
Projects are multi-session units on a topic or theme. They help teach process and revision while producing a polished piece.
See a Project
▼
Writing
The Writing Gallery features pieces produced by students over the course of Lessons and Projects featured on the site, as well as from our collection of student publications. These may be used to help envision what your students will produce, or as representative, relatable example texts to use in class.
See Student Writing
▼
Bookstore
The Bookstore features collections of student work from 826 Young Authors' Book Projects and other publishing projects with curricula on 826 Digital, as well as collections of 826 educator resources. These publications offer the opportunity for students to read entire books written by their peers, independently or in connection with 826 Digital Lessons and Projects.
Go to Bookstore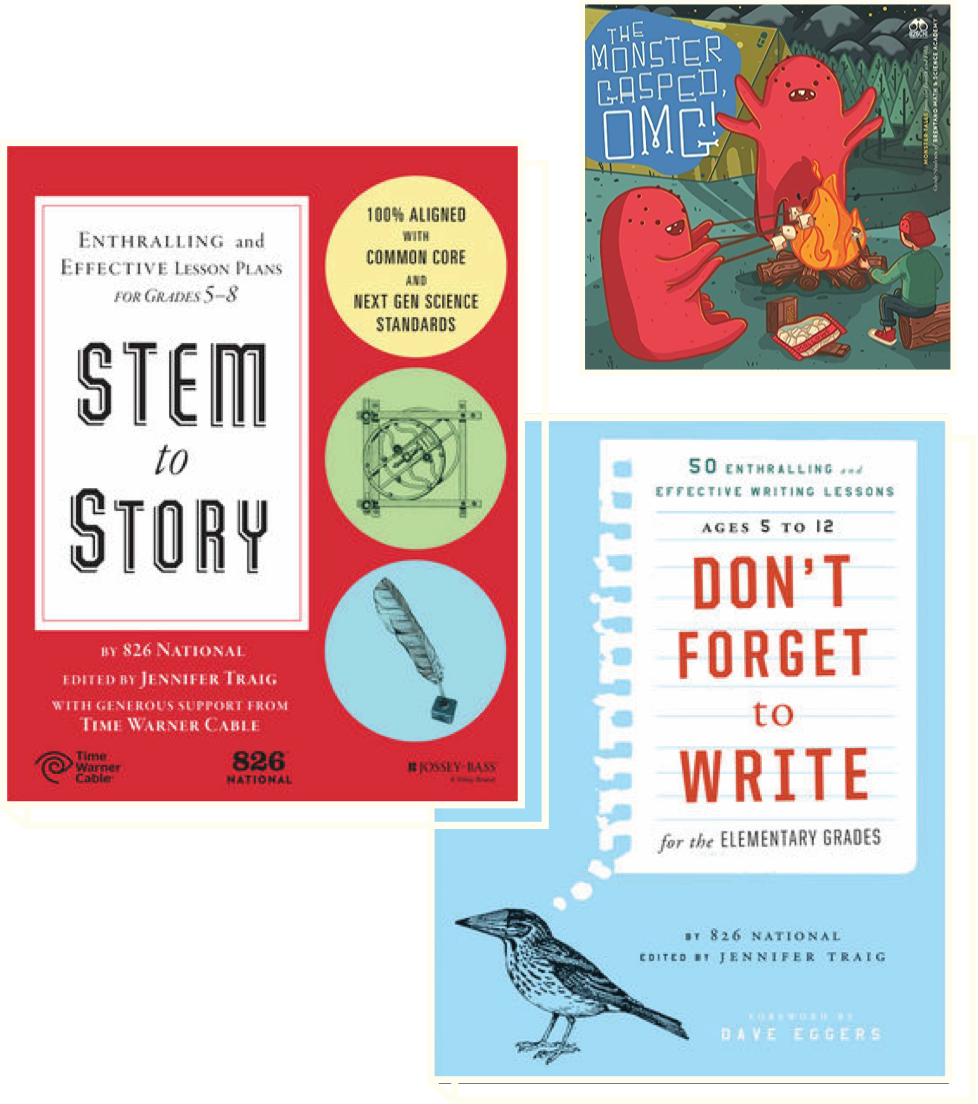 ▼
Saving Resources
Saving resources made easy…
Save Resources to Google Drive
Keep your 826 resources handy by saving resources to your Google Drive.
Save Resources to Pinterest
Pin a resource to Pinterest to share with others or to make it easy to come back to it later.
Download to Your Computer
Download a PDF of any resource directly to your computer if you prefer.
▼
Testimonials
"The folks at the 826 National organization understand kids, how to make learning fun and most importantly, how to get kids interested in writing."
Jeremy S, Teacher at Noble Middle School, Chicago, IL
▼
Sponsors
It takes a village. We send our sincere gratitude to the generous founding sponsors who helped make 826 Digital a reality.

Yellow Chair Foundation
Justine Jentes and Dan Kuruna
Singer Family Foundation