Writing
Memories Through the Ages
By Keila, 826michigan
An "I A From" poem. English and Spanish versions included.
Level
Grades 4–5
Type
Poetry
I am from Great Lakes Mall
in a huge deer hunting shop with my family. 
From being in the shop for
one complete hour.
From going to the shooting range
and teaching each other how to aim.
From my brother hunting deer
on the mountains.
From my brother going with my abuelo hunting.
From a five-foot-long,
white bear that I took a picture with.
From a one-foot-long fish,
I felt I wanted to make fried fish.
I am from the smell of nachos,
hot dogs,
and hamburgers.
From my mom making nachos out of
platanos and carne.
From eating together,
crispy,
toasted
hamburgers.
From sitting on a wooden table,
opening a box of
Italian supreme pizza.
From anchovies, green peppers, pepperoni,
cheese, and black olives.
From tasting
spicy pizza sauce as hot as
the sun in my mouth.
I am from watching
wild ducks migrating.
From my cousin's living room in
North Carolina.
From eating candy warheads
that made my cousins go CRAZY.
From games of Twister.
From The Three Stooges movie that
we laughed and laughed at.
I am from laughter and fun with Taty,
Fanny, and
Abey.
Chaos in Minecraft with
farm animals running around,
getting lost because I
forgot to close the door.
Uh-oh.
From working together to destroy
Steve in Minecraft pocket edition.
I am from my piano.
It is surrounded by boy stuff.
From teaching myself with a piano book,
from recorded tunes in my piano memory.
From playing piano for
two years!
From happy songs stuck in my head.
From me starting to
learn new songs.
*      *      *
Memorias De Mis Edades
Yo soy de centro comercial de los grandes lagos y
en una tienda grande de cacería con mi familia.
yo por
una hora completa.
Desde que fuimos al puesto de cacería
y aprendimos unos a otros.
Con mi hermano a cazar venados
en la montaña.
Mi hermano va con mi abuelo de cacería.
Desde cinco pies de
largo y me tome una foto con el oso blanco.
Y vi un pez de un pie de largo,
y sentí que quería hacer pescado frito.
Se venía el olor de nachos,
perros calientes
y hamburguesas.
Y mi mama a me hacía nachos de
plátano con carne molida.
Comimos a juntos
hamburguesas,
crujiente
tostada.
Nos sentábamos En una mesa de madera.
Abrimos una caja de
pizza Italiana suprema con carne.
Chile verde, pepperoni,
queso y aceitunas negras.
Y se sentía
en la boca caliente como
el sol.

Yo estuve viendo la
migración de los partos salvajes.
Desde la sala de mi prima en
Carolina del Norte.
Y Comíamos dulces warheads
que mi prima se puso impaciente.
De los juegos de Twister.
De la película de los Tres chiflados que
reimos y reimos.
Con risa y diversión con Taly,
Fanny y
Abbey.
Caos en Minecraft con
los animales que corrían
alrededor porque se
no olvidó cerrar la puerta.
Uh-oh!
Trabajamos juntos para destruir
la edición de Steve en Minecraft.

Mi piano.
Y yo estamos rodeados de cosas de niños.
Para aprender por mi mama en el libro de piano.
Yo grabe los tonos en la memoria de mi piano.
Para tocar piano por
dos años!
La canciones felices en mi mente.
para
aprender nuevas canciones.  
About the Author
Keila is a brilliant nine-year-old girl who was born in Honduras. Now she lives in Detroit, Michigan, with her mom, dad, a playful sister, and an awesome brother. Keila gets inspired when someone says, "friendship" because she has lots of friends. She is grateful for her hobbies and talents such as gymnastics, writing on a 300-page notebook, and arts and crafts. Three words that describe Keila are talented, 100% rebel and 99% flexible. Last of all, she likes to talk about Honduras.
*      *     *
Keila es una niña brillante de nueve años que nació en Honduras. Ahora vive en Detroit, Michigan, con su mamá, su papá, una hermana bromista, y un hermano estupendo. Keila se inspira cuando alguien dice "amistad" porque tiene muchos amigos. Aprecia sus talentos y pasatiempos incluso gimnasia, escribir un cuaderno de 300 páginas, y manualidades. Tres palabras que describen Keila incluyen: talentosa, 100% rebelde, y 99% flexible. Por fin, le gusta hablar de Honduras.
Shared from This 826 Book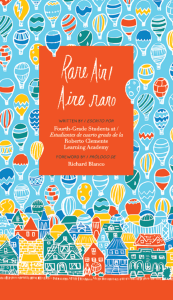 Rare Air / Aire raro
Rare Air / Aire raro is 826michigan's Young Author's Book Project for the 2015–2016 school year written by the fourth-grade students of Ms. Lowe's class at Roberto Clemente Learning Academy in Detroit and it is FULL of firsts for us. It is the first YABP written in Detroit. The first YABP of poetry. And the first that is completely bilingual (English and Spanish).
With a foreword by inaugural poet Richard Blanco, and introduction by volunteer and retired teacher Sandy Karolak, Rare Air / Aire raro is full of exceptional and charming poems on family, neighborhood, and memories. Poems were translated into Spanish by students, family members, and volunteers to allow for students to share their voices with their community. So join fourth-grade writers of Roberto Clemente Learning Academy in feeling the rare air in this beautiful book of bilingual poetry.
A bilingual collection of poetry written by fourth graders at Roberto Clemente Learning Academy in Detroit.
View full collection in the bookstore
From this project
See more Student Writing at this level