Writing
My House/Mi casa
By Fatima, 826michigan
A list poem about a beautiful room and a beautiful family in both English and Spanish.
Level
Grades 3–4
Type
Poetry
Little cactus, peace lily flower that my mom
likes
White and brown curtains
A big, light-brown couch
A rectangular, dark-brown table
Fish tank with goldfish that
are very old and colorful little rocks
that are pink, blue, and green
Brown and yellow kitchen
Pink room, red room, and blue room
Beige carpet in the pink room and the red
room
Pictures of my family by the thirty-nine-
inch TV where
my sister and I watch cartoons
My little sister's Minnie Mouse blanket
There are stuffed animals on the bed
The bed is really bouncy
Brown doors that are shiny and big
There is an Xbox 360 that my brother plays
A beige bathroom that has a square mirror
My family has beautiful names
Maria, Juan, Sebastian, Natalia, Fatima
MI CASA
Cactus pequeño, la flor alcatraz que le gusta
a mi mamá
Cortinas blancas y marrones
Un sofá grande de marrón claro
Un rectángulo, mesa marrón oscuro
Pecera con peces dorados que
son muy viejos y guijarros de colores
que son rosas, azules, y verdes
Cocina marrón y amarilla
Cuarto rosado, cuarto rojo y cuarto azul
Alfombra beige en el cuarto rosado y el cuarto
rojo
Fotos de mi familia cerca del tele de treinta y
Nueve pulgadas donde
mi hermana mira a los dibujos animados
La cobija Minnie Mouse de mi hermana menor
Hay peluches en la cama
La cama es muy muelle
Puertas marrones radiantes y grandes
Hay un Xbox 360 que mi hermano juega
Un baño beige con espejo cuadrado
Mi familia tiene nombres hermosos
María, Juan, Sebastián, Natali, Fátima
About the Author
Fatima is a nine-year-old girl, She lives in a brown house in Detroit. She lives with her mom, dad, adorable little sister, and cool brother. She loves school. She always reads in the morning at school. Sometimes, when she is bored at the park, she draws her family on a piece of paper.
Fatima es una niña de nueve años. Vive en una casa marrón en Detroit. Vive con su mamá, su papá, su adorable hermanita y su genial hermano. Le encanta la escuela. Siempre lee por la mañana en la escuela. A veces, cuando se aburre en el parque, dibuja su familia en una hoja de papel.
Shared from This 826 Book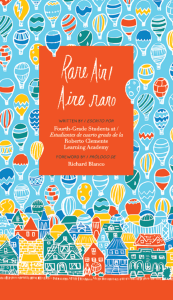 Rare Air / Aire raro
Rare Air / Aire raro is 826michigan's Young Author's Book Project for the 2015–2016 school year written by the fourth-grade students of Ms. Lowe's class at Roberto Clemente Learning Academy in Detroit and it is FULL of firsts for us. It is the first YABP written in Detroit. The first YABP of poetry. And the first that is completely bilingual (English and Spanish).
With a foreword by inaugural poet Richard Blanco, and introduction by volunteer and retired teacher Sandy Karolak, Rare Air / Aire raro is full of exceptional and charming poems on family, neighborhood, and memories. Poems were translated into Spanish by students, family members, and volunteers to allow for students to share their voices with their community. So join fourth-grade writers of Roberto Clemente Learning Academy in feeling the rare air in this beautiful book of bilingual poetry.
A bilingual collection of poetry written by fourth graders at Roberto Clemente Learning Academy in Detroit.
View full collection in the bookstore
From this project
See more Student Writing at this level