Writing
WrestleMania 21-1
By Brayan, 826michigan
In this poem, a student vividly recounts watching The Undertaker perform a signature chokeslam on WrestleMania. Written in Spanish and English.
Level
Grades 4–5
Type
Poetry
I see WrestleMania one time a year
With my uncle in his living room brown
and warm
with my dad and Sergio. Table full
of popcorn and chips and cans of soda.
We cheered for the Undertaker
vs. rude Brock Lesnar. The Undertaker's
signature is the chokeslam.
The chokeslam hurts as much as a big car
accident.
We cheer like
"Go Undertaker!" so he will come back
Full of energy, and
"Get up, Undertaker!"
When he's knocked down. His theme song
goes like
don don, then it goes like ahh ahh
It is loud as when a bomb bursts like boom.
Undertaker is like a
Demon. He can run fast,
Make his eyes white for
a long time. The pupil of the eye
you cannot see it. He has
long hair. He sais,
"You will RIP!" with
his eyes white,
and his hand across
his neck. He has long rope hair.
He has a cape as black as ink.
When the Undertaker lost,
he lost by pinfall. Pinfall is when you get
on top
of the wrestler and the ref counts one, two,
three.
Then they won.
My uncle punched the table.
It went pow!
He was as mad as a lion
who tried to catch a
cheetah for five hours.
I was mad as Brock Lesnar.
My brother fell asleep
five minutes before the match ended.
It was 2:21AM.
I was excited to
see WrestleMania 21-1. When I
got into the car, I fell asleep.
My dad carried my brother
to the car seat, and
my dad drove home
in our green truck.
I felt sad after the match because
Undertaker lost. I want to be a wrestler
when I grow up and
be the World Heavyweight champion.
WrestleMania 21-1
Ye veo WrestleMania una vez al año
con mi tío en la sala café y
calentita
Won mi papá y Sergio. Mesa llena
de palomitas, papitas y soda de bote.
Estamos con emoción gritando por Undertaker
contra Brock Lesnar. La firma de
Undertaker es el chokeslam.
El chokeslam duele como si estuvieras en un
choque de carro grande.
Gritamos
con emoción "¡Dale más duro, Undertaker!"
para que se levante con mucha energía
cuando esta noqueado. Su canción de tema
empieza a tocar
Es tan fuerte como
una bomba.
El undertaker es como
un demonio. El puede correr muy rápido
y puede hacer sus ojos blancos por
mucho tiempo. Y dice, "Tu vas a
descansar en paz"
el tiene pelo
negro y una capa
negra como tinta.
Cando el Undertaker perdío,
Mi tío le pegó a la mesa estaba
enojado como un león
que estuviera tratando
de cazar a
una pantera
por cinco horas.
Estaba enojado con Brock Lesner.
Mi hermano se quedó dormindo
cinco minutos antes que se acabara la pelea.
Eran las 2:21AM.
Estaba emocionado
para ver WrestleMania 21-1. Cuando me
subí al carro, me quede dormido.
Mi papá cargó a mi hermano
a la silla del carro y
mi papá manejó
a la casa en nuestra troca verde.
Me siento triste después de la pelea
porque el Undertaker perdió.
Cuando yo crezca quiero ser un
Luchador campeón del mundo.
About the Author
Brayan is a funny ten-year-old boy. He lives in a blue brick house in Detroit, Michigan. He has one awesome brother, one nice sister, a grateful mom, a funny dad, and two playful dogs. He is good at soccer skills and tricks. He is grateful for his family because they take care of him.
Brayan es chistoso es niño de diez años. El vive en una casa azul de ladrillo en Detroit, Michigan. El tiene un hermano asombroso, y una buena hermana, una grandiosa mamá, y un papa chistoso, dos perros juguetones, y es muy bueno jugando futbol. El agradece a su familia porque lo cuidan.
Shared from This 826 Book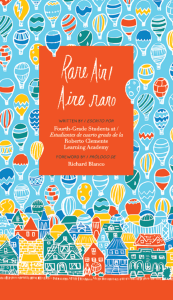 Rare Air / Aire raro
Rare Air / Aire raro is 826michigan's Young Author's Book Project for the 2015–2016 school year written by the fourth-grade students of Ms. Lowe's class at Roberto Clemente Learning Academy in Detroit and it is FULL of firsts for us. It is the first YABP written in Detroit. The first YABP of poetry. And the first that is completely bilingual (English and Spanish).
With a foreword by inaugural poet Richard Blanco, and introduction by volunteer and retired teacher Sandy Karolak, Rare Air / Aire raro is full of exceptional and charming poems on family, neighborhood, and memories. Poems were translated into Spanish by students, family members, and volunteers to allow for students to share their voices with their community. So join fourth-grade writers of Roberto Clemente Learning Academy in feeling the rare air in this beautiful book of bilingual poetry.
A bilingual collection of poetry written by fourth graders at Roberto Clemente Learning Academy in Detroit.
View full collection in the bookstore
From this project
See more Student Writing at this level